Webinar
Localization: Faster, Better, and Stronger... But How?
Learn how Procore

built a top-of-the-line localization program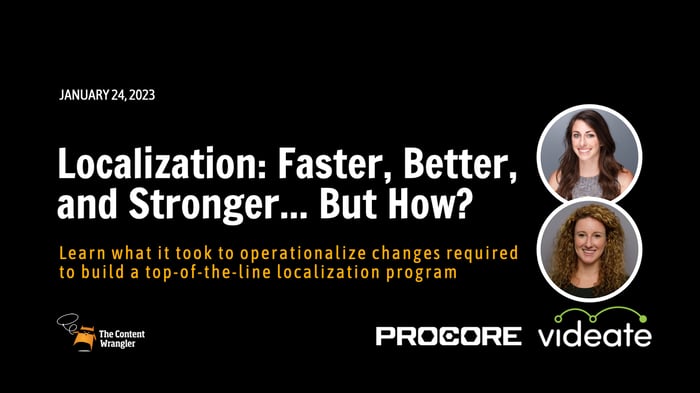 Procore recently underwent a globalization transformation. Two years ago, it took six months to localize a customer education course. Just a single course!
But Procore knew that its global customers needed to get these courses faster — but without burning through their resources.
The International Instructional Design team needed time and strategic effort to transform, but it was worth it. They shrunk their turnaround time from nearly six months to just six to eight weeks!
Join Procore experts Emily Williams, Senior Instructional Design Program Manager, International, and Sorcha Grogan, Program Manager, Enterprise Localization, to learn what it took to prepare for and operationalize the changes required to build a top-of-the-line localization program.
In this webinar, you'll learn:
Procore's globalization maturity model (including content creation, processes, hiring, and product)
What and who is needed for the transformation (partnerships and software resources)

Their top best practices gleaned from the experience (i.e., where to start and how to scale)
This webinar is brought to you by The Content Wrangler and sponsored by Videate.
Watch the on-demand Webinar: